Mumbai University (File Photo)
MUMBAI: The election season will affect Mumbai University's exam schedule in April. While only one paper for TYBCom, taken by the highest number of students in the university, is likely to clash with a poll date in the Mumbai Metropolitan Region, most others, like TYBA, TYBSc and second-year college exams, will have to be postponed on at least five days. The delays are likely to hit vacations and an early announcement of results.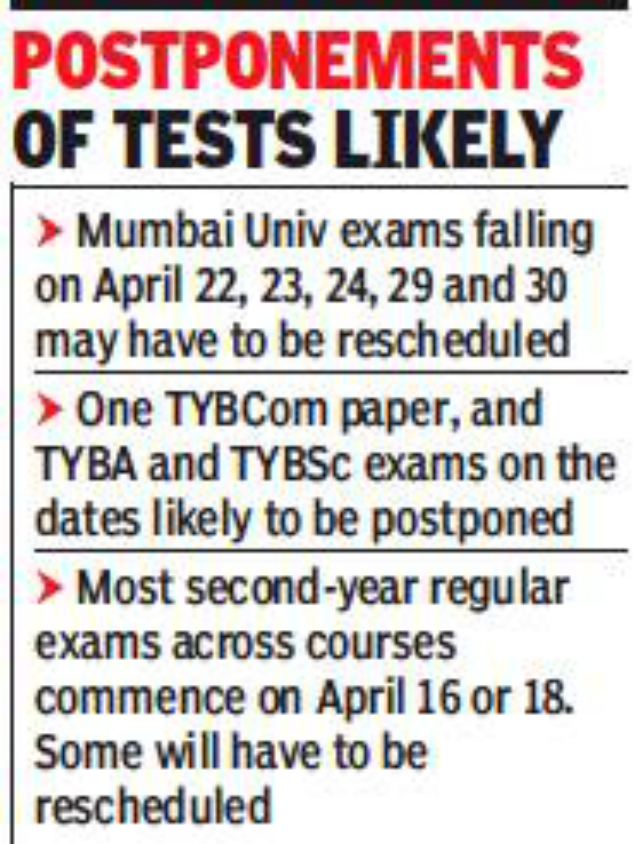 While polls are scheduled on April 29 in MMR and on April 23 in Raigad and Sindhudurg-also under Mumbai University's jurisdiction-many colleges, which are used for polling booths, have to be kept free a day before and a day after polling for preparation. Taking this into account, exams falling on April 22, 24 and 30 may have to be postponed as well (April 28 is a Sunday). Some centres will also be used on counting day-May 23. The university will not schedule any exam on May 23. Also, teachers are called on poll duty, severely straining the test administering apparatus.
The university had announced the commencement dates for most exams, except engineering. The detailed time-table was kept on hold for many papers. "The TYBCom exam ends on April 22. The last exam on an applied component paper may have to be rescheduled," said a university official. Some TYBA and TYBSc exams, starting in the second week of April, will have to be rescheduled. Most second year exams for BSc, B Com, BA and other self-financed courses too will start after April 15.
A teacher said that vacations were anyway hit as first-year exams were to commence from April 30 and run into May; with these postponements, one may end up working till mid-May. A final-year BA student from a south Mumbai college said she is looking at pursuing her masters from a foreign university and is hoping that the delays don't affect her results.
Chandra Bhushan Sharma, Chairman of NIOS, said that the likelihood of rescheduling is slightly bleak, but a final call will be taken on Monday. Many parents are already concerned about the NIOS board exams, as rescheduling the exam will delay the result and will affect their admissions.
["source=timesofindia.indiatimes."]