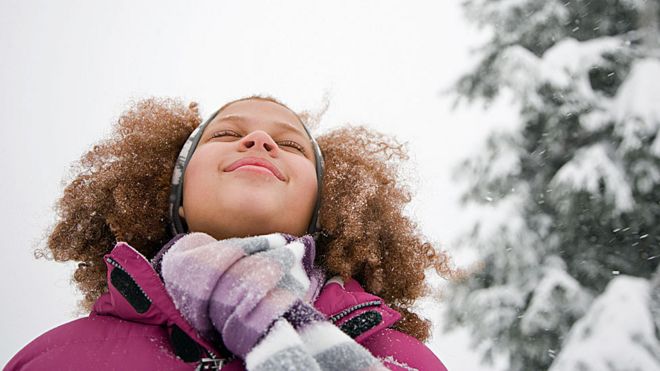 Snowy weather has already arrived in parts of the US and Europe and is forecast for the UK later this month.
For school students, it means the chance of benefiting from the long-standing tradition of the "snow day", when schools are forced to close and students get an unexpected day off.
It's a familiar theme from American film and TV shows, with children getting the good news and then running outside for some seasonal snowman-building and snowball throwing, against a montage of Eighties pop music.
But the tradition is now over for pupils in US states such as South Carolina, Nevada, Georgia and Indiana.
This academic year, many school boards have introduced policies which require students to work from home if the school is shut by snow or extreme weather.
They are known as "e-learning days", which certainly sounds less fun than a snow day.
'Let the kids enjoy it'
Teachers are also losing their snow days and instead will be expected to be on hand to take a virtual register and answer students' questions online.
A pilot programme in a school district in Anderson County, South Carolina has supplied students with electronic tablets loaded with assignments to complete in the event of a school closure.
If it is successful, it could be rolled out across the state.
But some parents object to the new policy, if the vigorous debate on the Facebook page of Anderson County school district is anything to go by.
"When it snows, let the kids enjoy it," said one commenter.
Another said the decision would "ruin school even more", and someone else called snow days "a fun part of childhood".
But proponents of the policy say it means children will miss fewer days of school.
It will also bring to an end a less popular US high school tradition: the "make-up day", which requires students in many states to make up the time lost due to weather by working during school holidays.
["source-businesstoday"]